I've been attempting to support some educators in creating Choice boards now that we are back delivering content online. These gained prominence when we first shifted to remote learning, popularized by the Bitmoji Classroom images that were used to create the backdrop for a series of different links to various activities. They are basically mini websites. The edtech community that has been sharing these have primarily been using Google Slides, but as a board shifting to a Microsoft toolkit, we've been struggling a bit with some of the limitations of OneDrive for Business, particularly when it comes to embedding slideshows in other spaces.
A Momentary Digression
There are some limitations to embedding content from OneDrive for Business that makes this difficult when you are building out materials. This is what the process of grabbing an embed code in OneDrive for Business looks like:
Here's what it looks like in the commercial version of OneDrive:
Did you spot the difference? That middle window that prompts you to create a sharable version of the slide show is the magic sauce that would allow users to share their creations with others, and post them in various Teams and Virtual Learning Environments, without worrying about permissions issues.
As it stands now, the only way to manage the permissions on that OneDrive for Business file is to share it with the specific users who you feel should be able to access it. Maybe this makes sense in business (although if your prompt on the embed panel is going to say "Share on blogs or Websites" one would assume it would be configured to work within those spaces, where the audience is an unknown, anonymous entity); but in the classroom, if I build something there's a good chance I'm going to reuse it with a different set of students; and there's a good chance I'm going to share it with my educator colleagues so that they can use it as well. I need those creations to be accessible to anonymous users.
Sharing, Sharing, Sharing
Despite the proliferation of costly edtech tools and the nonsense of Teachers Pay Teachers, I still hold firm to the idea that Teachers, like Open Source software developers, need to find ways to freely share with one another. Having strong division team partners who share readily with each other is the backbone of a well-functioning teaching team, and that spirit should extend out to the larger teaching community. There are some exciting examples of this happening right now in post-secondary education in our own backyard. The eCampus Ontario Open Educational Resources library is an incredible example of disruption to the education resource industry.
Internationally, the Association for Learning Technology has created an Open COVID Pledge for Education: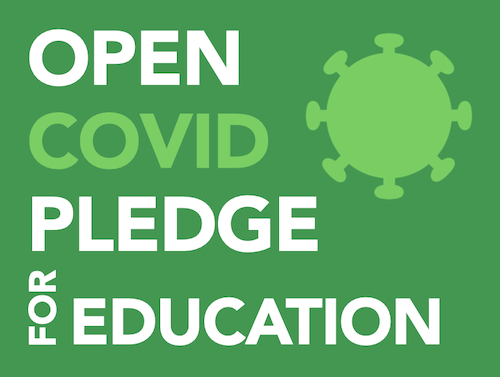 We pledge to make our intellectual property openly and freely available to the world to support educators, students and decision-makers, to help educational organisations survive and thrive, and to build a fairer and more resilient education system.

We pledge – where possible – to openly license or dedicate to the public domain our intellectual property

https://www.alt.ac.uk/about-alt/what-we-do/open-covid-pledge-education
Can we do the same in small ways here? Can we pledge to make our content accessible to others, and share between colleagues? Maybe that means publishing your content from Brightspace into the Learning Object Repository, or publishing it on https://share.school for others to access. Posting content to Twitter or on a blog can help your colleagues access and benefit from your work: and a community of sharing helps everyone.
One of the ways to do this is to build out resources in open tools that were build with sharing in mind. H5P is one of those tools: an interactive learning object builder that offers many of the same web 2.0 functions that require payment, or lock your content away behind proprietary barriers in other online tools.
Let's Build One
H5P is a plugin for WordPress (among other integrations). In my case I'm using the integration in the HWDSB Commons to create this. I'm going to use the Course Presentation format to create the presentation, in a similar fashion to how one would use Google Slides or Microsoft PowerPoint.
I can add slides at the bottom, and add slide backgrounds if I have imagery from an existing presentation that I want to use. Just remember that if you convert a slideshow to images so you can upload them here, rather than using the text tools built into the tool, that you are creating inaccessible content.
The majority of these choice boards usually consist of anchors taking users from one slide to another, and links within the slides taking users out to various resources. Both options are there, but beyond that there are a huge number of other interactives that you can build into your presentation.
Fill in the Blanks
Single Choice Set
Multiple choice
True/False Questions
Drag and Drop Activities
Mark the Words
Dialog/Flash Cards
Interactive Videos
Why this and not just a slide show
The ability to Reuse means your colleagues can grab the file you created and remix it for their own uses.
The ability to Embed means you can take this object and add it directly to your content in the Virtual Learning Environment (the HUB at HWDSB), or you can add it as a Tab in a Microsoft Team.
Because it's HTML5, and it was built to be accessed on multiple different devices, all the headaches that come with trying to create PDFs or PowerPoint presentations that open in a viewer that respects their links are gone.
From choiceboards, the sky is the limit to what you might be able to build.